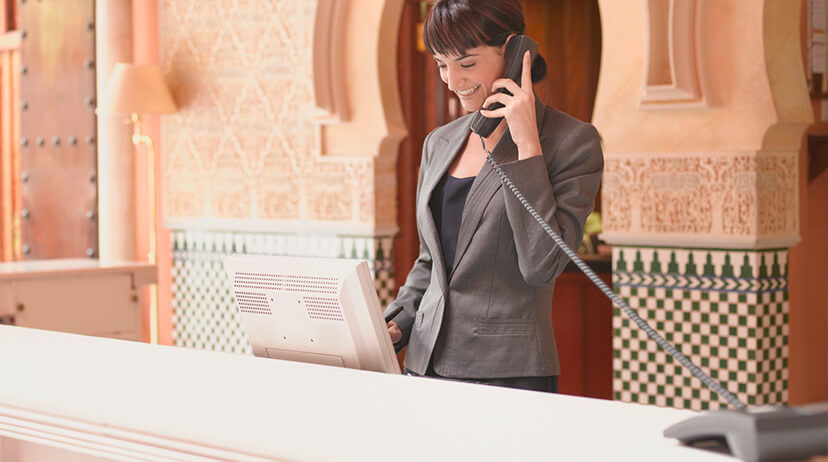 Overview
Hospitality industry always seeks better solution to increase staff responsiveness to customer, in order to attend enhanced customer satisfaction. IP-PBX solution for hotels offers the product to increase staff efficiency at reduced operational cost & overheads.
Hospitality Solution
A completely integrated telephony solution which will facilitate better communication in hospitality section.
IP PBX for hospitality industry is built on open source standards & is flexible to adopt & integrate with your existing infrastructure. You can now easily provide superior customer services.
Benefits
Best Fit for Hotels Up to 500 Rooms
Fennix introduces series of IP-PBX systems that satisfy the requirement of hospitality industry. Be it a small size hotel with 50 rooms to larger hotels up to 500 rooms, Fennix has the right fit for your requirement. With our cluster based solution & customization, the product is capable of delivering robust solutions even for More than 500 Rooms, ideals for Reosrts, Motels, Serviced apartment, Guest houses.
Features
Smartphone Wi-Fi Client
Instant SMS to guest
Video Conference facility
VoIP Call facility
Room call Billing
Wake Up Call
Third Party Software Integration
Treatments
Colonoscopy – $105
Gastroscopy – $225
Allergy testing – $335
Colonoscopy – $635
Gastroscopy – $295
Allergy testing – $355
Our Services
Colonoscopy – $105
Gastroscopy – $225
Allergy testing – $335
Colonoscopy – $635
Gastroscopy – $295
Allergy testing – $355
Awesome Doctors for Medical and Health
Lorem ipsum dolor sit amet, consectetuм adipiscing elit
Book an Appointment
Lorem ipsum dolor sit amet, consectetuм adipiscing elit
[contact-form-7 404 "Not Found"]