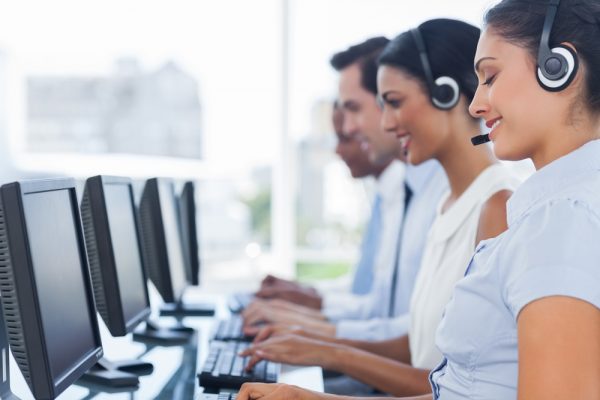 FROM FRONT OFFICE TO BACK OFFICE,
PABX.LK HAS THE CALL CENTER SOLUTIONS YOU NEED.
Call Center Solutions
Your call center operation requires a proactive, scalable, end-to-end solution to monitor and manage all processes. PABX.LK call center dialer is just what you need. It provides visibility and control over the performance and productivity of your call center.
PABX.LK call center solution has all the features associated with high end and high cost propriety call center solutions. A good call center helps puts your small business on the track to success. PABX.LK gives you an instant 24/7/365 customer service at far less than the cost of in-house employees. Whether your customers are around the corner or across the world, we've got you covered.
Key offerings
Automatic call distribution
Interactive voice response
Voice logger
Voice blasting
Hosted dialer
CRM integration
SMS integration
Live/current agent monitoring
Report and campaign statistics
Voicemail to email
Missed call alert on agent screen
Call history search and dial option
Feedback IVR
Sticky agent and account based call routing
Features
Manual, progressive & predictive dialing
Outbound ACD
Longest idle agent based routing
Call back scheduling
Multiple campaign management
Multiple dialing modes
Agent inter dialing support
Call forward and three way conferencing
DNC list management
Agent call intervention
Real time supervision
Music on hold
Call transfer
Call retrieval
Benefits
Interactive voice response
Automatic call distribution
Skill based routing
Inbound call pop up
Most idle agent based routing
Real time supervision
Agent call intervention
Call back scheduling
Call conferencing
Call center support services
Above all, we want to help your business grow. Our call center services for small or large business are an important part of our clients' toolkits. We give you friendly, professional customer service associates to make sure your callers always reach a live person when they contact your business.
Adding a call center to your business helps you get the most out of your marketing budget. When you spend money to generate inbound leads, you don't want to miss those calls. Our call center receptionists help avoid abandoned shopping carts, because we're there to give a best technical support and clear up doubts that keep customer from checking out.
Enterprise-Grade Mobility
PABX.LK VoIP systems empowers you to do business remotely or from the road. Our App based PBX enables complete and secure mobility for your business.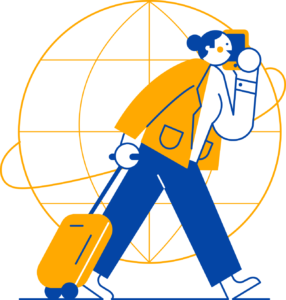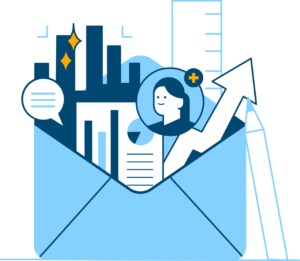 Security & Reliability Designed for Enterprises
With eight point of presence, carrier-grade data centers, and 99.999% uptime, you'll never miss a beat with your customers. We built one of the world's most reliable enterprise-ready voice networks.
Actionable Voice & Business Analytics
Discover actionable data about company call activities, real-time performance, and business outcomes.
Create customized dashboards to boost performance in all areas of the organization.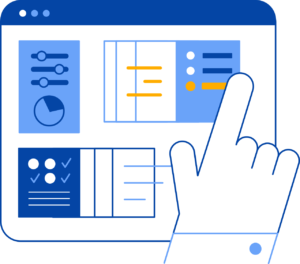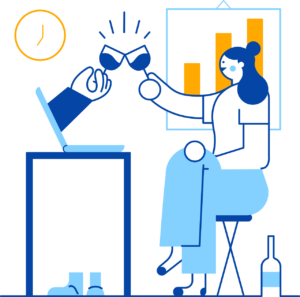 Your Enterprise Communications Partner
PABX.LK award-winning customer service has earned SL #1 ratings from google, Frost & Sullivan, and other VoIP industry experts. Get 24/7 access to customer support and take advantage of our Professional Services add-ons to get hands-on consultation of your communications needs.
Track & analyze your entire pipeline for valuable hidden business insights
Track the entire customer journey. From lead to end of lifecycle. Every interaction along the way is tracked and analyzed.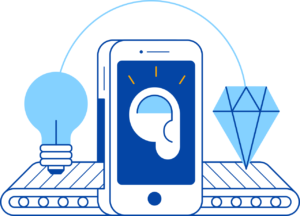 Real-time and historical reporting
View extensive performance metrics of each agent; monitor individual and team members on the real-time dashboards. Understand the processing status and average handle time of each interaction, find the bottlenecks, and get actionable insights from ultimate historical reporting & analytics.
Analytics And Reporting
Business numbers are the most reliable source of your data to determine your business performance and with Cloud PBX, viewing and analyzing such crucial business data becomes easy and quick. All the reports of your call center operations are updated on the cloud in real-time to help you make informed business decisions.
Hosted on the cloud, the reports are accessible over any device.
Customizable report parameters for fine tuned data analysis.
Restricted access to the data analytic reports for unmatched confidentiality.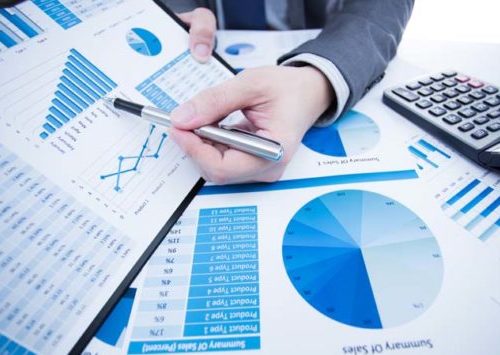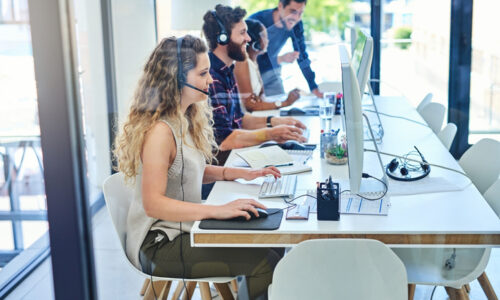 Integrating Your Business and Call Center
Call Center solution set developed at PABX can be integrated with leading A2 Billing, Flash Operator Panel 2 etc. So that you do not require a manual data entry to share the information between different tools. Along with ease of operation, it takes off the chances of error with data entry. Most of the integration of the solutions is automated and in case you require any assistance with it, we have our support team available 24×7.
Call Center Monitoring Reports

The reports display accurate information for your call center activity in nice formated tables and informative charts. Even more: you have the option to export the reports to pdf and csv (Excel). There are a myriad of metrics available: Service Level Agreement, Abandon Rates, Call Distributions, Agent Activity and a lot more.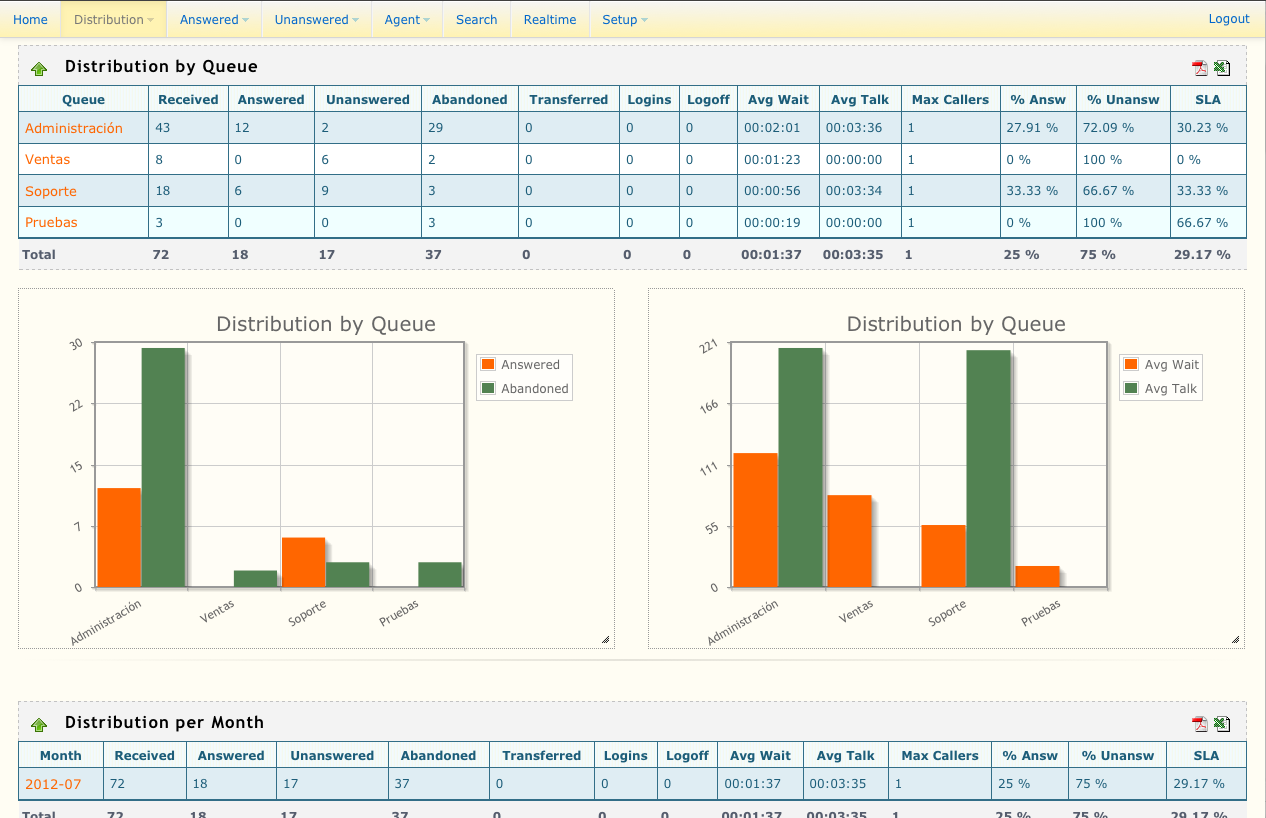 Call Reporting and Analytics

You get a superb panel that lets you monitor extensions, queues, meetme & trunks, with call notifications, visual phonebook, click to call, transfers, spy, etc.

Why Choose Our Call Center Solution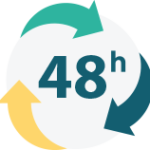 Full setup in 48 hours
Get access to a ready-to-use virtual contact center solution that has already been set to your specifications. The user-friendly interface enables you to do all daily tasks without the need for IT expertise.
At the same time, training for agents just takes a few minutes, and they can begin working virtually immediately.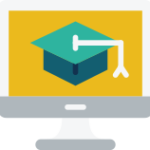 Intense training sessions
We are committed to your success, that's why we offer an intense adaptation period for the first week. You can design all required processes together with your personal manager during a live personalized training session and constantly receive recommendations on how to improve your contact center efficiency, based on the detailed analysis of your operation.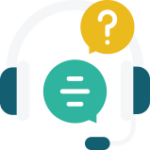 Extensive technical support
With more than 10 years of experience in the call center software industry, we not only resolve issues but also proactively prevent them. Our experts ensure ongoing network monitoring and technical support. Contact us via chat, email, phone, or help desk.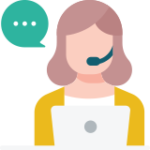 Professional services
To validate the best way of call center operation we can assist you with a detailed IT infrastructure audit & call center processes audit (if necessary). Our experts will assess the current situation and provide you with detailed recommendations. Such an audit will help you to avoid unplanned downtime and increase your call center productivity.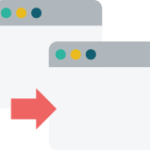 Professional migration assistance
Describe your business processes and previous configurations to your personal manager on the day first, and we make your migration from the on-premise phone system as smooth as possible.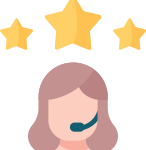 In-depth contact center expertise
We have a huge successful experience in implementing cloud contact center solutions for financial, medical, educational organizations, insurance, e-commerce companies, BPO's, and multiple others. We will define and implement the most effective software solution to fit your needs.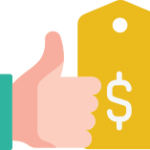 Affordable pricing with a high ROI
Pay less upfront costs and get more value for each user. You will feel the result from implementing the cloud-based call center software from Voiptime less than in 1 month period.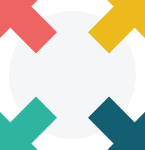 Easy scaling
Seasonal demand changes will not affect the performance of your virtual call center. Increase the number of user subscriptions for onsite or remote teams within a few hours, when required, and go back to the previous number when demand decreases.
How much does a call center cost?
Please contact our sales team for further details. Contact Us
Does my company need a call center?
There are a few primary reasons why companies use an outbound call center. Most importantly, a cloud contact center lets you hold a customer's call without sending them to a voicemail.
Second, it enables the company to improve customer satisfaction using call queues and auto attendants.
Third, call center technology lets you scale your softphone requirements as you grow.
How does a VoIP call center work?
A VoIP call center completes calls over the internet using Session Initiation Protocol (SIP) to digitize calls. PABX.LK business phone system routes specific call queues to the right agents.
Until an agent connects to a caller, inbound callers hear music, announcements, or other helpful messages from the company.
A VoIP call center only requires an internet connection and software installed on a computer alongside an optional VoIP desk phone.
What are the top VoIP call center features?
PABX.LK has features to help agents serve callers, supervisors manage their teams, and business leaders to focus on customer experience.
Popular contact center software features include:
Call Monitoring
Call Disposition
Agent Availability
Built-in Reporting
Supervisor Dashboards
Live Call Status
Intuitive software-based CTI
Queue Whisper Announcements
How many calls can the PABX.LK call center handle?
With PABX.LK, you can handle ultimate calls in queue. The advantage of using PABX.LK for your company's call center software solution is that it runs in the cloud and can answer as many inbound calls as you need. Call center agents can be located in an office, or even from the convenience of their home.
PABX.LK call center is so powerful, we rely on it ourselves!
How do I set up a VoIP call center?
It's easy to set up your VoIP call center with PABX.LK. Every account receives guided help and assistance to activate their cloud-based business communications tool.
Additional customer relationship managers are available for more hands-on implementations.